My experience with Katie was fantastic.  I met her through a childbirth education class and she said something in that class that resonated with me throughout my pregnancy and I'm now frequently reminded of it as a mother–that you will never be more judged in life than you will be as a parent.  This seems like a straightforward statement but it spoke volumes to me in that there is no right or wrong way to parent, to be pregnant, or to have a baby.
I asked her to be my doula after this class and due to some scheduling availability, she ended up "sharing" me with another doula.  The other doula (who was also fantastic!) ended up being my doula during my labor and birth, but Katie's pre and post partum support was amazing.  She is warm, compassionate, kind and funny.  She is thorough and calm, her demeanor makes you feel instantly at ease and you can tell she loves what she does.  We had multiple pre birth visits where we discussed my birth plan, my visits with my healthcare provider, and what sort of role my partner would play in the day.  She made sure that my husband, who was my primary birth coach, was comfortable in his role as a support person.  She checked in via phone, text and email and also provided post partum visits to debrief with us about the birth experience and was seemingly unflappable when she heard about all of the different curveballs that labor can throw at you.
Hopefully, timing will work out in our favor next time and when I am ready to have another baby, she will be on the front lines as my doula.  If you have the opportunity to meet with her–take it!!  She is very well connected in the Seattle birth community so if for whatever reason she is unable to be your doula, I am confident in her ability to give quality recommendations for other doulas in the area.  I wholeheartedly recommend Katie.
K. C.
---
I had an uncommonly complicated 56-hour labor with my son. It was the kinda labor that left us with no doubt about the wisdom of our choice to hire Katie.
When I first met with her in our consultation it was very clear to me that she has left no stone unturned in her study of childbirth. She knows her stuff backwards and forwards. In addition to being a doula, she's a mother of twins, a childbirth educator, and she has attended a laundry list of additional childbirth-related trainings… seriously, there's an actual list on her website and it's very long.:) She was the only doula I met with and I knew she was right for me and my partner. In our prenatal visits she was warm, friendly, and asked all the right questions. She took notes and was judicious about getting to the heart of what kind of experience I was hoping to have with my birth.
Honestly, I can't imagine what my birth would have been like without Katie because there's no way to extricate her from how things went down. When I was pushing, (for four hours) the doctor even took one of her suggestions. Doulas are, of course, not medical practitioners, but Katie is someone who knows her birth research up and down, so much so that she had the respect of my doctors.
My son was born with the help of forceps, with his cord wrapped twice around his neck, facing my right thigh, (yes, that's a thing), and needed the help of the pediatrics team to get going, but after all that Katie made sure that I had "my moment" with my son, which was my greatest wish for the birth. My partner and I were exhausted from the ordeal and Katie helped us communicate with the hospital staff to ensure our requests for the care of our son were observed.
Katie has all the right skills for her job–she's done (all) the research, she's whip smart, she knows how to talk to medical personnel respectfully, and most importantly, she's kind, loving, very understanding, and full of empathy for parents.
J and D
---
When I was about 31 weeks pregnant, we got some interesting news about the pregnancy, and I had to be admitted to the hospital for a couple of weeks, then confined to modified bed rest for the remainder. That experience left both my husband and me a little less confident about our abilities to handle the birth of our first child. We decided to hire a doula and Anna Morin and Katie Rohs, who frequently tag team, graciously agreed to help us. We didn't realize just how lucky we were until our first meeting. Both Anna and Katie brought this tremendously positive vibe to our situation and we felt genuinely listened to. Their pre-labor meetings were fantastic. Not only did they help us come up with a simple and effective birth plan, but they asked deep and thought provoking questions that helped my husband and I really get to the bottom of our fears. When the day arrived, I was ecstatic to find out both Anna and Katie would be staying with me all through till the end. Katie helped me focus on exercises and tactics we had practiced earlier. I had back labor and it was too much to handle, but Katie tirelessly helped ease my pain. She remembered all the different positions and how much each had helped me or not. Anna took full charge of my mental well being. She helped me visualize my baby and draw strength and comfort from that exercise. My labor was progressing way faster than I had imagined, and it was too intense for my husband and me. Both Anna and Katie just dissolved much of the tension and apprehension in the room and gave both of us much needed strength. Both Katie and Anna are extremely competent professionals, and I will highly recommend both of them for your doula needs. We are forever grateful for your help, thanks so much for being there when we needed you the most!!
N and S
---
I don't even know where to begin with my gushing about the positive experience we had with Katie as our doula. She really listened to me about the kind of birth I wanted to have, without any kind of judgment, and did her best to make my birth experience the way I wanted it to be. She didn't make assumptions–she LISTENED. I'd had a rough time with my first born (he was a 27-weeker and spent 9 weeks in the NICU) and had a lot of anxiety throughout this pregnancy, and Katie was able to help alleviate some of that anxiety by helping me talk through my fears. She was also helpful in suggesting things, such as bringing our own receiving blankets, to help us avoid some PTSD triggers for my husband and I.
Katie was with us both through a false-alarm hospital trip at 37 weeks, and the real deal at 40+. She came to our house to meet up with us before heading out to the hospital, and stayed with us at the hospital until we were ready to transfer up to a recovery room. We had Katie take pictures during the birth, and honestly, I can't figure out how she did such a great job capturing those memories on film AND being so supportive during the pushing. After we came home from the hospital, Katie came to check on us and of course have a snuggle with our new baby.
I think what I like best about Katie is how filled with love she is. She turned what could have easily been another traumatic birth experience, into a really positive one, where I felt surrounded by comfort and support. I have recommended Katie to everyone I know who is having a baby because I can't imagine a better doula than Katie.
Beth C.
---
The support, knowledge, and care Katie Rohs provided for our family was not only helpful, but essential before, during, and after our birth. She helped us prepare and create a calm and safe environment for our entire family, and we were so thankful to have her as part of our birth team that really worked hard during our long birth adventure. We would highly recommend Katie to be the doula for any expectant parents; we know we will use her services again if given the opportunity!
Melissa C.
---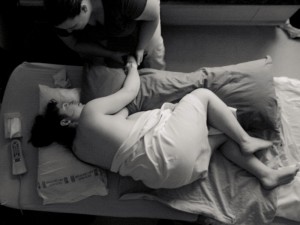 Our daughter was diagnosed with Down syndrome and an AV canal defect around week 16 of the pregnancy. It made for a very tumultuous second trimester. We decided to research doulas in the area. My chiropractor recommended the great Penny Simkin. Due to Penny's incredibly busy schedule, and my daughter's medical issues, Penny recommended Katie. She said Katie prefers to work with parents expecting special needs kids. Just hearing that brought my husband and me a bit of comfort, but we honestly did not know what to expect. During our visits, Katie made us feel heard and worthy of her time. It felt like we were spending time with a friend, someone who cares, someone near our age, someone like us. She asked us how we envisioned our daughter's arrival. All we wanted was to gift our daughter with a peaceful, harmonious atmosphere, meditative, poetic, and the notion we could actually have a smooth, vaginal birth. It was a difficult 21 hour labor. Honestly, my husband was the best coach I could have ever asked for, and Katie was the best coach he could have asked for. She walked us through every stage of birth. She took notes and prepared a timeline of events for us to reflect on. She was there for everything for both of us, in whatever capacity we desired. It was as if she knew, and before we could ask, she was there. Katie was the fairy-godmother we never knew we needed, and looking back, could not imagine going without.
Lisa W.
---
Katie was a great source of support in the birth of our daughter.  My wife had a completely natural birth and undoubtedly Katie's presence eased the both of us through the process.  Katie met with us near our home and offered books and videos for us to borrow.  As Suzanne went into early labor, Katie was available over the phone and via text messages to follow up, answer questions, and offer encouragement.  When it was time for us to transition to the University of Washington (Midwifery Center), Katie met us promptly.
During the labor process, Katie was a warm presence who offered helpful suggestions for various birthing positions.  More importantly she provided constant support with every wet towel she handed to me (which I placed on my wife's neck and forehead) reassuring the both of us that each contraction we were one step closer to meeting our baby.  When our first child was born Katie even grabbed my camera and took photos for us!
After the birth of our daughter, Katie met with us twice and provided a chronology of our daughter's birth.  I highly recommend Katie as she was a thoughtful and generous presence as we began a new chapter of our life.
Mike & Suzanne
---
When I first met Katie, I was immediately drawn to her warm, calm and compassionate nature. There is a genuine depth to her character, a depth that yearns to embrace the welfare and concerns of those around her, that is priceless. Throughout my entire labor and delivery (which happened to be a medical induction since I have high risk regnancies), Katie was there to help with whatever I needed. She was there to walk the halls with me when the Pitocin drip was first started and she was by my side in an instant to help me endure the more intense contractions. She was also great at anticipating my needs before they were voiced.
My husband and I further appreciated how she completely respected our desires and wishes for how we envisioned the birthing process to go. I am incredibly grateful that Katie was able to be a part of the birth of my fourth child. Her soothing presence, and the advice and knowledge she brought with her, were exactly what I needed during my labor and delivery. I would  definitely recommend her as a doula to anyone considering her services. You won't be disappointed with your choice!
Laura R.
---
I am writing in praise of Katie as a birth doula! She attended the birth of my daughter, and was a tremendous support to both myself and my husband. Although it was my second birth, it was longer than my first (40.25 hours). Anticipating a natural birth, Katie helped me stay focused and coached me through contractions. When the midwife began suggesting medical interventions, Katie helped me find my voice for my wishes and supported me in making the decisions that were best for my birth experience.
Following the birth of both of my children, Katie was one of my primary sources of knowledge, advice and reassurance in all aspects of newborn care. Have her teach you how to swaddle! I highly recommend her as a birth doula!
Kelli L.
---
While my husband and I waffled a bit throughout my pregnancy about whether we wanted a doula to help us through our birthing experience, we ultimately decided that Katie was the perfect person with whom to share in our experience.  We were right!
Katie helped both my husband and I stay centered on our goals, helped allieviate my fears and with her questions, gave me the perspective that I needed to stick with our plan of staying at home until my contractions were steady and strong.  Once we arrived at the hospital, Katie reminded us of the many different positions we could try during labor and coached us through the very long process of labor and delivery. However, she knew when my husband and I needed some time to ourselves and gave us space we did not know we needed as well.
Thanks, in part, to Katie's wonderful support, I delivered our son without any medication.  She was my epi-doula!
Heather F.
---
Katie was amazing at the birth of our son. Without her thoughtful and valuable advice, I am not sure that the birth would have been as smooth as it was. My wife had a completely natural birth.
She offered helpful suggestions to our birth preferences and provided a DVD of birthing positions when she met with us before the day of delivery. On the day of my son's birth, Katie was giving us advice on what we needed to be talking to the doctors. Later, she came over to our house and comforted my wife as she was undergoing the early stages of active labor. At the hospital, she gave us good advice with comfort positions (and ways to speed up contractions), and as labor progressed, was right by my wife's side, providing comfort. She knew our birth preferences and ensured that we got what we wanted.
I cannot imagine how much more difficult labor would have been without Katie. She is awesome!!!
Chris R.
---
Katie was a HUGE support through our family's birthing experience. She was there every step of the way, and was so strong. She not only gave great direct support to Tiffany during her 42 HOUR labor, but was also there me as I struggled with how much pain my wife in during labor. Her confidence and calm approach when things get stressful in the labor room are infectious to whoever is in the room. Especially during a long labor such as ours, you need several strong pillars to help keep your bridge from crashing down. Our bridge would have crashed without Katie to help hold it up.
We couldn't give stronger praise to what Katie did for us during our birthing process, and we STRONGLY recommend her anybody searching for top-notch doula.
John and Tiffany